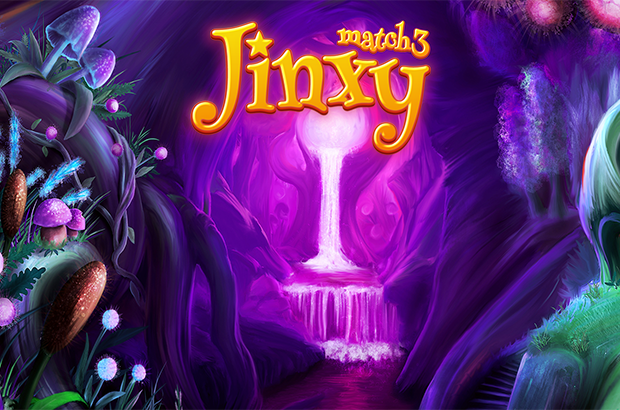 Think you've seen everything there is to see when it comes to slots and game machines? Then think again!
Jinxy – the celebrated slot innovation from NOVOMATIC – takes slot machine gameplay to the next level. Show your skill and you'll enjoy an experience that no other slot can deliver!
We've summarised what you need to know to hit the ground running with Jinxy!
Your aim
The game is played on a square grid that is packed with random symbols. You can move the symbols around by dragging and dropping them. You can make one move in the game for each stake you place.
You must try to form combinations comprising three or more matching symbols in a horizontal or vertical row. Manage this and the symbols will explode to make room for new ones.
Winnings are achieved with special winning symbols, which are bigger than the regular symbols. As soon as they appear in the grid, you must try to remove them. You can achieve this either by blowing them up using the explosive special symbols or by getting them to the bottom of the grid.
Tip: All of the winning symbols and their values are listed to the left of the game grid.
The special symbols are here to help
Three special symbols add even more spice to the game and boost your chances of winning!
Cross symbol: This symbol looks just like a regular symbol, but it is marked with a yellow arrow.
How can I get one? Get four matching symbols in a line either horizontally or vertically without interruption.
What can it do? With the Cross symbol you can detonate complete rows and columns if it is combined with matching basic symbols.
Bomb symbol: Careful – this symbol is unstable! When the Bomb symbol explodes, your chances of winning will go through the roof.
How can I get one? Get five matching symbols in either an L or T pattern.
What can it do? It can detonate up to twelve surrounding symbols, depending on its position.
Bell symbol: This highly-explosive symbol can transform other symbols into further Bell symbols.
How can I get one? Line up five matching symbols either horizontally or vertically without interruption.
What can it do? As you make moves in the grid and form lines of matching symbols, the Bells can transform regular symbols into more Bells. When they explode, they will clear large areas of the grid.
Jinxy – a slot milestone!
The innovative slot from NOVOMATIC leaves nothing to be desired when it comes to gameplay, making it ideal for fun casual gaming.
See for yourself in our online casino and enjoy an extra special gaming experience!