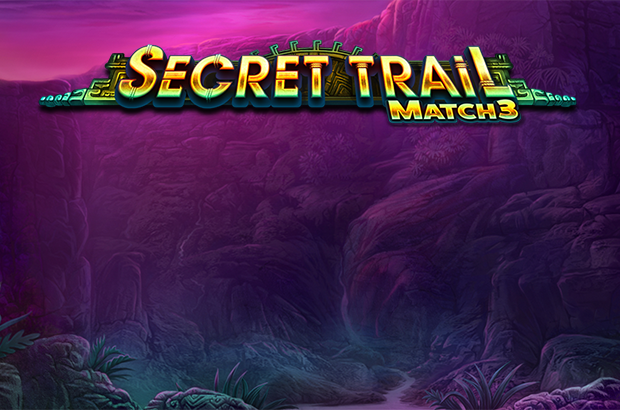 Overview
Who wouldn't like to slip into the shoes of an adventurous archaeologist? Secret Trail enables you to do just that! Combine your way through the grid packed with gemstones and track down the profitable winning symbols.
Secret Trail online is a match-three game. Instead of reels there are seven rows and eight columns full of symbols. The game grid features two kinds of symbols: colourful gemstone symbols and other winning symbols, such as the fearless Adventurer (yields the highest winnings), the cunning Adventuress (yields the second highest winnings), the Biplane, the Crocodile and the Black Panther. Unlike in other games, here you can create special symbols yourself, providing suitable symbols fall into the grid from above. And that's when Secret Trail online really comes into its own, for the special symbols you make ramp up your chances of winning!
Your aim
Get at least three same-coloured symbols side by side by switching the position of two adjacent symbols. Simply click on the symbols you want to switch to move them. The matching symbols will then explode and new symbols will fall into the grid from above. After each move in the game, a winning symbol might drop into the grid. You can collect these symbols (like the Black Panther) by getting them to the bottom of the screen or blowing them up with the help of the special symbols. Moreover, in Secret Trail online it can rain gemstones. If three gemstone symbols of the same colour form a vertical or horizontal line, they will disappear and leave behind winnings. Manage to get four or five matching symbols in the right positions, and they'll disappear and yield a special symbol for you to play with.
Feature
With a little luck in Secret Trail, you can create your own special symbols.
Special Cross Symbol
All you need for this special symbol in Secret Trail online are four matching gemstones side by side in a vertical or horizontal line. You will be able to tell the difference between the special symbol and a regular symbol by its golden edge. Such a symbol increases your chances of winning significantly. If it appears next to two or more same-coloured symbols, it will explode and take with it the whole row or column to trigger a shower of winnings for your account. Cross symbols can be combined if you exchange them for other special symbols.
Special Bomb Symbol
If you position five matching symbols side by side in an L or T shape, they will disappear and leave behind a special Bomb symbol. This can be moved only one position, but in all four directions to positions that can be occupied by regular and special symbols. When the Bomb explodes, it can take up to twelve surrounding symbols with it. Bomb symbols can also be combined if you manage to switch their place with that of another special symbol.
Special Bell Symbol
Get five like symbols in a row, either horizontally or vertically. These symbols will then disappear and leave you with a special Bell symbol. Just like with the special Bomb symbol, the Bell can take out other symbols when it switches places with a regular symbol. All of the symbols of the same colour as the special Bell symbol will then detonate. And if you manage to combine the Bell with other Bells, you'll trigger an extra special effect.
Tutorial
Got a question? Want to play a round without staking real money? No problem – that's what the tutorial is for. Once you've learnt the rules, you'll have the chance to play a round of Secret Trail online free of charge.
Background
Crosses, Bombs and Bells might not sound like the right ingredients for an exotic adventure, but that's exactly what awaits you in Secret Trail online! Just like in other match-three titles, your challenge in Secret Trail is to line up matching symbols side by side. But that's not all, for in this game you can create up to three special symbols (the Cross, Bomb and Bell) by making clever moves! Moreover, the game is packed with colourful gemstone symbols that are there for the sole purpose of boosting your gaming balance big time.