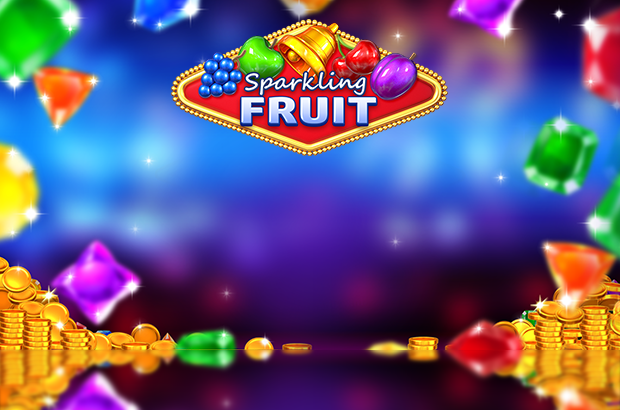 Yep – there are plenty of fruit slots out there, but there's nothing quite like this one! Play Sparkling Fruit and enjoy thrilling gameplay that will put your skill to the test.
The NOVOMATIC innovation Sparkling Fruit comes complete with special symbols that add an extra level of excitement. But be careful, for this game is highly explosive!
Here you can find out how the slot Sparkling Fruit works to ensure you can make the most of this fun and exciting game.
Your aim
Sparkling Fruit is played on a square grid that displays a variety of random symbols. You can move these symbols around using the drag and drop function. You can make one move in the game for each stake you place.
Your aim in Sparkling Fruit is to form combinations of three matching symbols in a line (vertically or horizontally). If you manage to do this, the symbols in the combination will explode and be replaced by those above them in the grid. Empty spaces will then be filled by new symbols.
But the most important question is "How can I achieve winnings in Sparkling Fruit?" Fortunately, the answer is simple: With the help of the winning symbols (Diamonds) that can fall onto the grid. A list of what they are worth can be seen on the left of the screen. Simply remove them from the grid by either destroying them with the help of the special symbols or getting them to the bottom of the grid where they will explode.
Awesome special symbols in Sparkling Fruit
The game Sparkling Fruit comes complete with three special symbols that can give your luck a huge boost:
Cross symbols: These symbols look just like standard fruits, but they have a stalk as well.
How to get Cross symbols: Get four identical symbols in a line (either horizontally or vertically) without interruption.
What the Cross symbols do: They destroy complete rows and columns if they are combined with identical regular symbols.
Bomb symbols: These symbols might make you jump! When they explode, a large area of the grid is cleared.
How to get Bomb symbols: Get five identical symbols in either an L or T pattern on the grid.
What the Bomb symbols do: They can detonate up to twelve surrounding symbols, depending on their position.
Bell symbols: This symbol can transform other symbols into further Bells. Plus, Bells are highly explosive.
How to get Bell symbols: Line up five identical symbols (either horizontally or vertically) without interruption.
What the Bell symbols do: By making moves and forming lines of matching symbols, the Bells can transform regular symbols into further Bells. When they detonate, they will clear large areas of the grid.
Unique gaming fun with Sparkling Fruit
In Sparkling Fruit, NOVOMATIC has managed to create a game that has opened a new chapter in slot gameplay. This special slot machine sparkles with a fresh look. And not only is it easy to follow, but it also delivers a new gaming experience every time you play!
Try it out for yourself in our online casino and enjoy a unique gaming adventure!