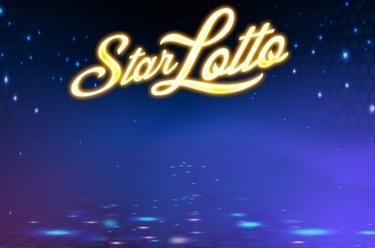 Get this: You play a slot but actually you play a version of the lottery. The choice of lottery numbers is yours. You can play with up to 4 lottery tickets at the same time and they can win in 3 different ways. And there is also a jackpot. There is no such thing? You better believe it: Star Lotto™ has all this in store and more - there is also the cute little robot accompanying you on your journey to the winning stars!
Your aim with Star Lotto™ is to land 6 numbers that correspond with lottery numbers that you choose beforehand. The star, that substitutes any symbol, is your little helper.
Play Star Lotto™
You select 6 lottery numbers in Star Lotto™ by clicking the red levers at the left and right side of the row of numbers or by clicking the green arrows below and above the relevant numbers.
You can play 4 slots, which can be activated and deactivated with the click of a button. Clicking the Star button triggers a spin. The results will then be compared with the lottery numbers. If they match you win according to the paytable.
There are 3 ways to win in Star Lotto™:
If the numbers of one or several slots starting on the left match with the lottery numbers you land a "First" win.
Should number combos land on random locations of the slot that match the lottery numbers you get a "Random Locations" win.
When a slot shows at least 4 matching numbers you land a "Matching Numbers" win. The 2 numbers that didn't fit will be spun again if exactly 4 numbers have landed. If you then land 5 matching numbers another spin is triggered to increase the odds to 6 matching numbers.
Jackpot
If luck is on your side you can crack the progressive Mystery Jackpot in Star Lotto™. The jackpot amount depends on your stakes. The maximum total stake gets you 100%! The jackpot amount is displayed above the paytable.