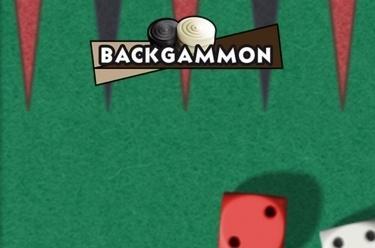 Play Backgammon Free Online
Who isn't familiar with the gameboard with 24 triangles? Throw in two dice and two sets of 15 checkers (in black and white) and nothing stands between you and an exciting Backgammon showdown!

Long before Backgammon debuted online, it was already a hit board game around the world. As far back as the Trojan War - around 1200 BC - soldiers loved moving pieces around the board and getting one over their opponents.

There has even been an official World Backgammon Championship since 1967, in which the world's best players put their Backgammon skills to the ultimate test.

And online? Backgammon established itself as an incredibly popular online game many years ago. It is available to play as an app, on your computer and in multiplayer mode. And it's often free to play - just like on GameTwist!
Backgammon: The Aim of the Game
Your aim in Backgammon is to move all of your checkers to the home board as quickly as possible and be the first to remove them from the game. Think you can 'bear off' your checkers faster than your opponent to win in one of the oldest board games in the world?
Play Backgammon on GameTwist – 5 top versions available!
Before you get gaming, it's important to know that we have more to offer than just classic Backgammon. We have five different game variants for you to enjoy:
Backgammon
Tavli
Portes
Plakoto
Fegva
Moreover, there's a speed feature for faster gameplay and even more thrills. With so much variety to enjoy, it's no wonder that Backgammon fans keep stopping by GameTwist to claim big Twist wins!
Top Tips for Winning at Backgammon

With 36 possible dice combinations, you are spoilt for choice when it comes to making moves!
As is the case for every dice and card game, you'll find no shortage of analysis online concerning the probability of certain outcomes in Backgammon. So, make the most of this information to improve your strategy. Chance will always play a big role, but tactics can make the difference between winning and losing.
Take cover!
Don't forget to protect your own checkers. Losing them on your own home board could cost you the game. Moreover, you should always establish how much risk you are willing to take in your next game of Backgammon.
Practise makes perfect!
Gradually improving your Backgammon skills step by step is key for beginners. Broaden your range of game moves and back yourself into a corner in practice games to ensure you know how to react when your opponent catches you off guard.
Backgammon online - just one of many GameTwist board games!
If you love the thrill of Backgammon but fancy trying your hand at other free online games, GameTwist is the place to play.
How about a round of Mahjong? Or perhaps a game of one of the classics, such as Chess, Yatzy or Bauernschnapsen? Many of our players trade the cards and playing pieces for balls to enjoy a session at our virtual Pool table!
Begin your adventure now and show us what you're made of! Visit our homepage to find out more about Backgammon online and our other top titles.