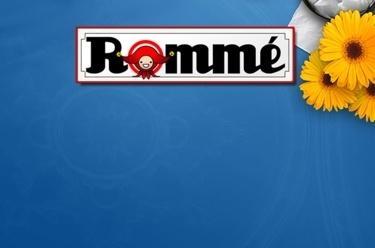 Play Rummy free online
Hardly any other card game enjoys such a cult status. For more than 100 years, Rummy has been fascinating players from around the world, and the success story of this game now extends to the internet!
Just like other card game classics such as Solitaire, Rummy can be played free of charge on GameTwist. Our variant of Rummy provides exceptional virtual action – card for card!
Here you can find out more about online Rummy so that you can play and enjoy the game with confidence on GameTwist!
Online card game Rummy – aim and basic info
Rule no. 1 with Rummy: Be quicker than your opponent when laying cards! This popular game is based on the Mexican game Conquian in which cards are laid to form combinations. It is one of the most famous variants of the Rummy family.
The aim is to collect valid combinations of cards in your hand and lay ("meld") them. But you only win if you are faster than your opponent. If you have laid all your cards and your opponent still has some left, you win because your opponent scores penalty points.
The player with the lowest point score wins. This online game is decided not just by the luck of the draw, but also your skill and attentiveness while playing.
Rummy online is played against one to three opponents. You decide how many points you want to play to and what the stakes are. Interesting additional options such as Hand Rummy (straight from the hand) add even more excitement.
Rummy online on GameTwist: how the game works
If you would like to enjoy one of the world's most popular card games by playing a round of Rummy on GameTwist, you have several options:
First of all, you can decide whether you set up your own table or compete at another one against real opponents from all over Europe.
If you would like to start a game, you have the following options in this multiplayer mode: You can play against random opponents or just your friends.
You choose whether two, three or four players can join the card game.
Moreover, you can specify how many points you want to play to, what the stakes are, and whether you want to include Hand Rummy (all cards can be laid in one move).
Pointers – how to get better at playing Rummy online
A few simple tips can make your game of Rummy easier and, in time, improve your skills considerably.
Keep it neat. Arrange your cards carefully to ensure you have a good overview. That way it's easier for you to focus on the game.
Try to spot basic patterns. This can be achieved by focussing on your opponent's cards for several rounds so that you can assess the strength of their hands. There is just one exception: Players that bluff a lot and change tactics are harder to size up!
Play in a manner that feels comfortable to you. Both aggressive and defensive players can win at Rummy. Adapt your style according to your hand and the situation you find yourself in.
Always keep an eye on the discard pile. This is the only way you can figure out whether the card you are looking for has already been discarded or whether you can still draw it!
Watch a few games of Rummy without actually playing to find out how other players go about it. Inspiration is an asset for this game.
Rummy online – the fun and free classic on our platform
In the app (Android/iPhone), on your iPad or your computer - our games provide oodles of fun no matter which screen you use! What's more, GameTwist is home to further card games like Solitaire (Spider Solitaire/classic Solitaire) and Skat, and popular skill games like Pool and Chess!
Simply pick your favourite game and try to win big. Show the other players how it's done with Rummy.
We're keeping our fingers crossed for your next online game on GameTwist. Have fun 👍!