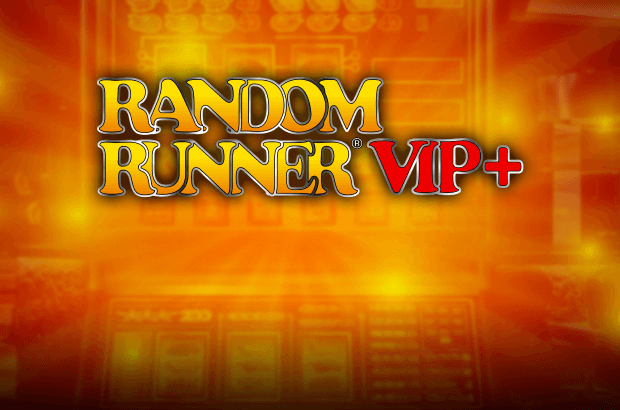 Play Random Runner® VIP+ Online
A basic game, a top game, countless possibilities: this fruit slot has legendary status in the Netherlands!
Random Runner VIP+ is an AWP-style retro fruit machine game in which you have a say in what happens next. In the basic game, you can control individual reels with the Hold feature, giving you the chance to complete winning combinations in the following spin. As soon as you reach the top game, you'll not only profit from more lucrative symbol values, but you'll also have the opportunity to clean up big time with the blue Star.
Curious to find out more about this slot? Then keep reading!
Random Runner VIP+ is an AWP-style fruit slot with a basic and top game. Each of the separate reel sets comprises three reels. The basic game begins with one win line and low symbol values. In contrast, the top game offers you the chance to land bigger wins and even play with a Star that promises something special. Irrespective of the mode you're playing, three matching symbols along a line are required for a win.
In this game, both your bets and winnings are represented by coins, the value of which is determined by you in the stake settings.
What's more, there's a Coins Meter and Super Meter to which you can credit your winnings after landing a winning combination. Which one you choose is entirely up to you, but once you have enough coins on the Super Meter, you'll switch to the top game.
The Symbols in Random Runner VIP+ Online
If you favour a retro look when you spin the reels, look no further than Random Runner VIP+. Cherries, Lemons, Oranges, Pears and Plums combine to produce sweet winnings in the basic game. And the Crown that's thrown into the mix can win from anywhere, irrespective of the win line. In the top game, Oranges, Plums and Pears are joined by Bells, Strawberries, Grapes, Melons, 7s and Stars, with the latter catering for the biggest wins achievable in the game.
In general, all you need are three identical symbols to trigger a win, but there are two exceptions:
The Cherry delivers winnings in combinations of just two
The Crown can send winnings your way from anywhere on the reels
Both of these special symbols feature only on the basic game reel set.
The Hold Feature in Random Runner VIP+
Got a gut feeling that you could still make something of the symbols scattered across the reels after a spin? Then follow your instinct! Thanks to the Hold feature in the basic game, you can fix individual reels in place to, with a little luck, complete a winning combination in the following spin. Simply hit the Hold button positioned under each of the reels. Per round, you can hold up to two reels with the aim of giving your chances of winning a boost.
On top of that, reels that display a promising array of symbols after a spin will be held automatically. If, however, you're not convinced, you can undo this by clicking on the corresponding Hold button or the Cancel button.
The Hold feature is disabled when
you play your first round,
you won in the last round
or used the Hold feature in the previous spin.
FAQs: Slot Info Worth Knowing
What is Random Runner VIP+ about?
Random Runner VIP+ is an AWP slot comprising a basic game (three reels, one win line), a top game (three reels, five win lines) and several extras. You always start in the basic game. If you are then successful and collect enough coins on the Super Meter, you'll switch to the top game, where your combinations yield even higher winnings.
Where can I play Random Runner VIP+?
You can play Random Runner VIP+ on GameTwist – the popular German online gaming platform. But the hit slot from the Netherlands is just one of many AWP slots and fruit machines you can enjoy there. We recommend trying out Random Runner, Random Runner 15 and the fiery fruit classic Sizzling Hot deluxe.
What extras are there in Random Runner VIP+?
Random Runner VIP+ features two reel sets and game mechanics that allow you to switch from one to the next. The basic game is played on three reels with one win line for lower winnings. But you can influence what happens by making use of the Hold function, which allows you to stop up to two reels per round. You'll move up to the top game as soon as you have collected enough coins on the Super Meter. This second game is played with three reels and five win lines. And there your combinations can generate significantly bigger wins!
RANDOM RUNNER® VIP+ overview
| | |
| --- | --- |
| Theme | Classic |
| Game Category | Online Slot |
| Jackpot | No |
| Volatility | High |
| Lines | 5 |
| Reels | 3 |
RANDOM RUNNER® VIP+ features
AWP-style slot with a retro look
Basic and top games
Stakes and winnings in coins
Hold feature
Big wins with the Star
RANDOM RUNNER® VIP+ gallery